Helicopter Tours: Champagne
Champagne helicopter tours from Paris: Do you wish to go to Champagne and visit the most famous cellars of the region? French Adventures will take you on a wonderful helicopter day tour.

Champagne Tour by Helicopter to Reims, Lunch at the famous "les Crayéres"
Leave from the heliport of Paris for a private helicopter flight over the Champagne vinyards. You will fly over EuroDisney, the Marne region, the famous vineyards of Champagne (flight is about onehour), and reach Reims.
Landing will be at the famous Château des Crayéres, of World knowed famous Chef, Gerard Boyer. The restaurant of "les Crayéres" is considered as one of the best restaurants in the world!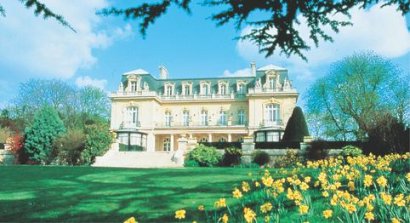 A Gastronomic lunch will be served, "degustation" style of six courses with wine and Champagne included.
After Lunch, meet your private driver, he will take you to the finest cellars of Reims, private guided tours of the cellars of Champagne Pommery and Veuve Cliquot. (tastings included)
Then, after the tour, your driver will take you back to the castle of Crayéres, and the helicopter will fly back to Paris (1h flight).
Included for 5 persons:
Private flight R/T Paris to Champagne
Gastronomic "degustation" lunch with wine & Champagne
Guided tours of the cellars of Champagne & tasting
Driver in Reims & transport for the afternoon
All the authorizations for landing
Gas, insurance, pilot's meal
Please note that if you wish to go to the Chateau of Crayéres and stay overnight, it can be arranged also, the helicopter will come back the next day. Please email us for a quote. Simple transfers by helicopter can be arranged as well from Paris.
---

Champagne tour by helicopter to Épernay cellars from Paris
Leave the heliport of Paris in the morning , flying over The Marne, and the vineyards of Champagne. You will reach the famous Castle d'Etoges**** near Épernay, the capital of Champagne.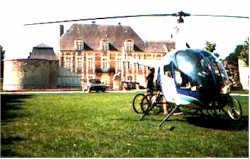 Gastronomic lunch will be served (drinks are not included), then after lunch, a private driver with transport will take you to Épernay to visit the most famous cellars such as Mercier, Moët et Chandon, Perrier Jouet in Épernay. Guided tours of the cellars and tastings included.
After the tour, return to the Castle of Etoges and flight back to Paris.
Included for 5 persons:
Private helicopter flight for the day to Épernay
Gastronomic lunch at the Castle of Etoges****
Private guided tours to the cellars of Epernay and tastings
Private driver and transport for a tour of Épernay cellars
All Landing authorizations
Pilot's meal, gas, insurance
Drinks with lunch are not included.
---

Panoramic tours of Champagne by helicopter (from Reims)
20 minute flight
Lift off at Reims-Prunay aerodrome and head for Moulin de Verzenay, to Château de Louvois built by Louis 14th's minister and architect Jules Hardoin-Mansart (who also played a major role in designing Versailles Chateau), followed by a flight over Épernay, the principal champagne-making city alongside Reims, Hautvilliers, and then return to Reims.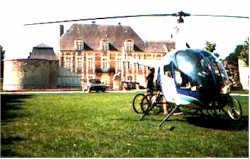 Cost based on 5 persons per helicopter 200 € per person.
---

30 minute flight
Explore the seemingly never-ending vineyards stretching between Reims Mountain and the Marne river valley. Enjoy the view of magnificent winemaking estates, including Château de Boursault, built by well-known Veuve Cliquot, and a mountain torrent running through lakes and gushing down the slopes in Soudron Park.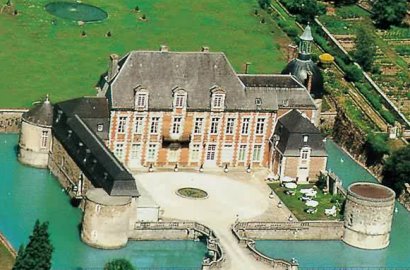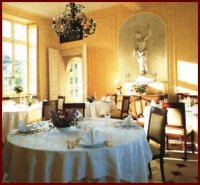 The trip back includes Épernay and its surrounding hillside vineyards, Hautvilliers Abbey where Dom Pérignon first came up with the idea of adding sparkle to wine thereby fathering champagne, and finally, takes you over Reims, the Cathedral, and back to the airport.
Cost of 220 € per person based on 5 persons per helicopter.
---
Private flights are available upon request. Transfers from Reims airport to the famous Château de Crayéres are available upon request.
We can also arrange for a car to pick you up in Paris and take you to the heliport. Or a minibus if more than 4 persons. email us for quote.

Please email us if you would like more information.