Aristocracy & the castles of France: This is probably our most special private escorted tour, as we will open the doors for you of the most private castles, still owned by the same famililies & Aristocratie of France. You will be received as special guests of these prestigious hosts. This tour is departing from Paris and returning to Paris, but we could also start this tour in the Loire valley.

---

Day 1: Paris

Airport transfer upon your arrival in Paris (morning arrival). Limousine service, bilingual driver waiting for you directly right after the customs duties.

Check into your 4 star hotel in Paris. (click here to see hotels)

Afternoon, 2 to 6pm, private city tour of Paris. Meet your bilingual guide at 2pm at your hotel with chauffeured transport, you will see all major monuments and highlights of Paris, we will take you inside Notre Dame Cathedral for a private guided tour of the cathedral.

Return to your hotel.

Night at your hotel in Paris (free evening).
---
Day 2: Paris - Loire Valley
Breakfast, we will then check out of your hotel early.

We will reach the castle of Chambord and visit. Then, going south to AMBOISE, city tour and Lunch. Afternoon, visit the castle of Chenonceau , and Cheverny.

We will then go to our first "special Château", castle de la Bourdaisiére, between Amboise & Tours. Your host is: Prince Philippe Maurice de Broglie.

Built by the king François 1er, for his mistress, Marie Gaudin in the 16th century, it was the birthplace of the favorite of King Henri IV, Gabrielle d'Estrée, a century later. Therefore, the château is dedicated to Women. The bedrooms and the suite are tastefully decorated and are conceived around a different color and fabric cheme. Outside a lovely Renaissance garden and a formal flower-bed in the spirit of the 17th century.

The "Prince Jardinier", with 400 varieties of tomatoes growing at the chateau, hopes to show visitors the wealth, beauty and complexity of this marvellous plant as well as providing a showcase for the future safeguard of its countless forms.The conservatory of tomatoes is open every day from August 15th to October 30th.

We will check in, meet your hosts and then, since the castle doesn't serve dinner, we will go to TOURS for a nice gastronomic dinner at Château Belmont. (Relais & Châteaux)

Evening and candlelit dinner at the castle.
---
Day 3:

Early breakfast, we will check out this castle and visit the castles of the southern Loire.

Morning tour to Azay le rideau, a very romantic castle and the villandry gardens. Lunch.

Afternoon we will reach the vineyards of Bourgueil, visit of cellars and wine tastings of Chinon wines & Bourgueil.

We will then reach our special "Château" for the evening, Castle of REAUX.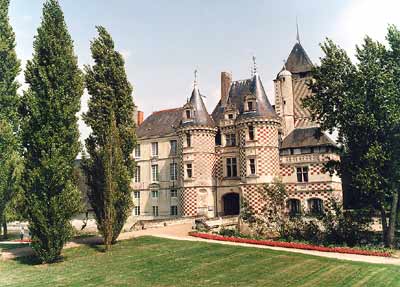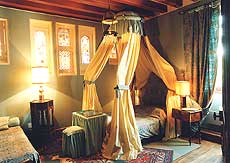 In 1435, Jean Briçonnet, first mayor of the city of Tours, bought the remains of an ancient stronghold called " Le plessis- Rideau"; His son Guillaume, grand-father of the great Sully, turned the castle into ruins. The illustrious family,passionately interested in art and architecture, continued to built throughout the Loire Valley the brightest jewels of the Renaissance: Chenonceau, Azay-le-Rideau...
In 1651, the descendants of Briçonnet sold Plessis-Rideau to the famous essayist Gédéon Tallemant des Réaux. Over a century, the family of the present owners has brought back to life this remarkable testimony of the glories of ancient France. Your hosts: Mr & Mrs. Francois de Bouillé.

Evening and candlelit dinner at the castle.
---
Day 4: One day in Poitou
We will leave the castle of les reaux, with a stop in SAUMUR, visit of the castle of saumur.

Then, we will reach the beginning of Poitou, visit of villages such as Thouars.

We will arrive after lunch at the beautiful castle of SAINT LOUP, where we will spend the afternoon and the evening.

The Château of Saint-Loup is a jewel of France's architectural heritage and an important site in the history of Poitou. Possessor since the Middle Ages of an elaborate ornamental potager, it was enhanced in the seventeenth and eighteenth centuries through the creation of wooded parkland and sumptuous gardens, which had fallen into decay over recent years. Your host: Monsieur Charles Henri de Bartillat. You will spend some time visiting the castle, the huge gardens & parks, the orangerie, all full of history!

Evening and dinner.
---
Day 5: The Loire / Angers (Anjou)
After breakfast, we will leave this castle and travel back to the Loire, we will reach ANGERS, visit of the famous castle.

Lunch and city tour of Angers.

We will then reach one of the most private & luxurious castle of France: Castle of BRISSAC, property of the Duke of Brissac.

Tour of the castle, evening and dinner in this prestigious castle.
---
Day 6: Angers - Mont Saint Michel
After breakfast, we will drive to Brittany, reaching the Mont saint michel, small tiny abbaye located on a island, famous for its pilgrimages.

Visit of the abbaye and lunch.

Visit of the Corsair city of Saint malo in Brittany.

Then, we will check into the Castle of BOUCEEL, privately owned by the Comte & Comtesse de Roquefeuil-Cahuzac

Just 18 kms from Mont-Saint-Michel, the Boucéel estate dates back to the 12 th century. The château was constructed in 1763 and is listed building. Built in the typical Saint-Malo style, this family residence has a curved pediment that brings charm to the façade as well as its two wings widely spread out down below.

Evening and dinner.
---
Day 7: Brittany to Normandy

We will leave early to visit Normandy, Landing beaches tour, US cemetary , lunch on the beaches.

City tour of Bayeux and then we will check into the castle of Canisy
The rare experience of being welcomed in a privately-owned castle "This chateau is heading towards its millenary existence and it belonged to the same family, my family, throughout the ages. I invite you to discover it with me. I shall be happy to welcome you and make you feel the real atmosphere of "la vie de chateau". You will be treated as a friend and you will feel at home .... in my castle !" Comte Denis de Kergorlay.
---
Day 8: Return to Paris

We will leave after breakfast, and driving along the Normand coast, reach the small village of Honfleur, visit.

Then, we wil leave the Normand coast, driving in direction of Paris. One stop & lunch in Giverny, to visit the house of Claude Monet.

Reaching Paris, your driver guide will leave you at your hotel in Paris 4 star hotel. Evening on your own.
---
Day 8:

Airport transfer back to CDG for your flight departure.
Cost of this private exclusive tour for 6 persons is as listed €18,200

Please email us if you would like more information.