Paris to Bordeaux/ Dordogne/Perigord/Lot

We have selected the best for you for this tour, a luxurary tour: Bordeaux wines, Castles & Prehistoric caves of Perigord & Dorgogne, Cahors vineyards of the Lot region sleeping in the best 4-star castles!

This private tour from Paris can be customized for 2 to 6 persons or more. Enjoy a full discovery of the best wines & cellars in Bordeaux, Medoc & Saint Emilion, we will then reach the Dordogne region to visit some Medieval castles, first, then reaching the Perigord Noir, Sarlat, Les Eyzies we will visit the famous prehistoric caves, Lascaux, Balloon flight near Sarlat over the region for one hour, visit of the famous Castle of Castelnaud, reach then the Cahors region, famous for its vineyards.

---

Day 1: Paris (Saturday)

Arrival early in the morning, private airport transfer upon arrival , English speaking driver

Check into your hotel 4-star

Meet your guide and transport by noon, go to the Eiffel tower for lunch (included), visit

Afternoon a general city tour of Paris. Evening is free.
---
Day 2: Paris to Bordeaux (Sunday)

early transfer from your hotel to train station for a TGV/ high speed train departure to Bordeaux (2h30 train).

Meet in Bordeaux, your driver guide who will accompany you during this trip, English speaking national licensed guide and minivan transport.

Lunch in a typical restaurant of Bordeaux, then a guided tour of the city.

transfer to your hotel 4 star " les sources de Caudalie" in the middle of the vineyards of the famous Château Smith Haut laffitte (Graves) , we will visit the castle and the cellars, tastings.

Check into your room, evening & dinner.
Les "Sources de caudalie" is a very famous SPA hotel , located in the vineyards of Graves, using VINOTHERAPY (SPA treatments based on wine). If you are interested in those treatments for a half day or a full day we could add it to your package. You can also buy the treatments "à la carte" if you don't have too much time and wish to try!
Four treatments will be available in large individual booths made of stone and wood. The spa overlooks the vines of Château Smith Haut Lafitte. Treatments include baths, massages, water jet showers, and wraps.
During your "Discovery Day", you will also have unlimited access to our spa bath with JetStream, Turkish bath, and rest areas. A free 100% organic red vine leaf tea of the day will also be provided.
---
Day 3: Bordeaux to Medoc (Monday)

After breakfast, your driver guide will take you to the Medoc region, following the famous "road of the wines".

First stop at the Château Beychevelle, visit & tastings, lunch at the famous Relais et Château "Cordeillan-Bages".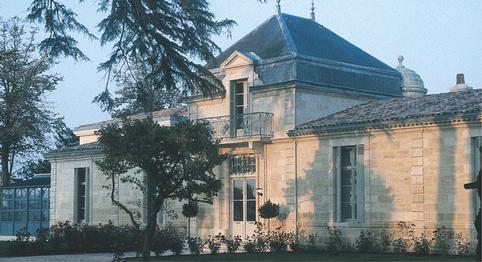 After lunch we will visit the Château Lynch Bages , tastings for 1h 30 and evaluation of wine at the Ecole du Bordeaux. Visit the Château Mouton Rotschild, visit of cellars, tastings and visit of the museum.

Return to your hotel in Bordeaux, dinner included.
---
Day 4: Bordeaux to Saint Emilion to Dordogne (Tuesday)

Early departure , you will check out your hotel in Bordeaux after breakfast, then the driver guide will take you to the Saint Emilion vineyards. Visit of the Château Franc Mayne, tastings.

Lunch in Saint Emilion.

Departure for Brantôme in Dordogne, on the way you will visit the famous castle of Puyguilhem, a Renaissance castle from the XVIth. century.

Guided tour of the city of Brantôme, called also the Venice of Perigord, a medieval city.

Check into your hotel 4-star, Moulin de l'Abbaye, Relais & Châteaux property.
The Moulin de l'Abbaye offers the romantic setting of a mill against the noble backdrop of a historic site, the poetry of a 12th century village house, the elegance of refined decor and quite magical beauty, the charm of the river, garden and terrace and, last but not least, excellent gourmet cuisine.

Evening and dinner included at this Gastronomic restaurant (drinks not included).
---
Day 5: Dordogne to Perigor Noir

After breakfast we will check out his beautiful hotel and drive to LES EYZIES.

From there, we will visit the famous prehistoric caves of Lascaux, & the prehistoric Museum, caves of les EYZIES.

Lunch in a typical restaurant of the Black Perigord.

Afternoon, driving through the villages of Beynac, Roque Gageac, we will reach SARLAT. City tour of SARLAT.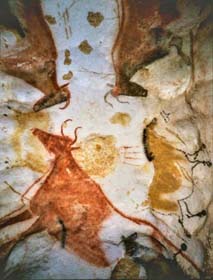 Visit on the way the famous castle of CASTELNAUD, a Medieval castle.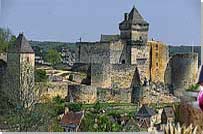 Reach Rocamandour, and check into yout hotel 4-star, famous Château de la TREYNE, Relais et Château.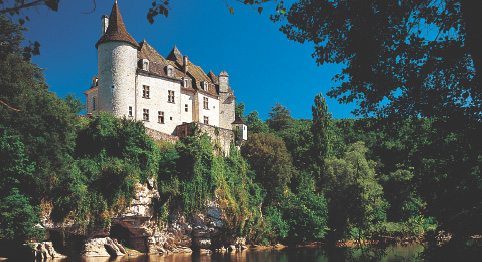 This magnificent château (built in the XIVth and XVIIth centuries) overlooks the Dordogne and blends the authenticity of the past with the comfort and quality of a landmarked site. Its French gardens extend into a 300-acre forest. Michèle Gombert has mastered the art of fine living, offering luxurious rooms, breakfast beneath the hundred-year-old cedars and dinner in the Louis XIII salon or on the riverside terrace.

Evening and dinner included ( except your drinks)
---
Day 6: Perigord to Lot (Cahors vineyards)

Early balloon flight for one hour this morning over the Dordogne region before leaving this wonderful part of France!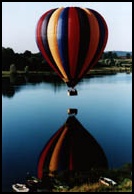 Then we will check out the castle of la treyne and drive to Cahors, city tour, visit of a foie gras farm and lunch .

Visit of one Château / property in CAHORS, wine tasting and cellars visit.

Evening and dinner at famous 4 star Castle of MERCUES, Relais et Château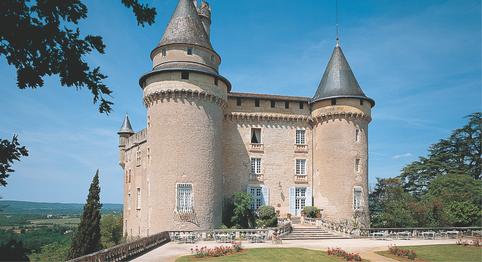 For twelve centuries, the château at Mercuès was the summer residence of the bishops of Cahors. Today the guestrooms, opening onto a breathtaking vista of vineyards, valleys and French gardens, have lost none of their feudal grandeur. In this kingdom of «foie gras», truffles and wine, the cuisine is rich and generous. Meanwhile, Georges Vigouroux's vintage Cahors age to perfection in the cathedral-like vaults of the cellar.
---
Day 7: Cahors to Bordeaux

After breakfast, the driver guide will take you back to Bordeaux for your train departure to Paris

Arrival in Paris , train transfer to your 4-star hotel in Paris.

Day & Evening on your own.
---
Day 8: Paris / Departure

Airport transfer to CDG airport upon your flight departure
The cost of this private escorted tour as listed for 6 persons is €20,187 (lunches and dinners included).

Please email us if you would like more information.