Private Tours for Children in Paris

So, you are in Paris for a few days, with your children, and wish to book some special tours for them. We all know by experience how boring a museum visit can be for a child! Not anymore, with our children private museum tours!
We can safely arrange this for you, either services of tours outside of your hotel with a licensed English speaking guide specialized in children tours, or we can also offer you a list of animations, workshops, that can be organized at your hotel or apartment in Paris. You may have also a Birthday to set up for your child in Paris? We will send magicians, puppets show to your hotel, or provide a beautiful day out in Paris for the little one.
On our children tours, your children will receive also materials to understand the museums, such as complimentary books and drawing books for Paris !


Our most popular city tour of Paris for families!

Private Walking Tours, Treasure Hunts, Scavenger Hunts in Paris

Cooking Classes for Children (Workshops are in Paris)

Services Available at your Hotel/Apartment

Driver guide, English speaking to meet you with transport at your hotel in Paris and let's start with a general city tour of the city
Stop at Notre dame, for a guided tour, the children will listen to the legends of the cathedral, Casimodo and Esmeralda... Let's play with the pigeons !
Walking tour to the Island saint Louis with a stop for hot chocolate and ice cream or French Crepes?
Stop for lunch at the Eiffel Tower OR LUNCH CRUISE
Montmartre, let' s do a rallye walking tour, treasure hunt to find the artists ! what a view from the sacred heart basilic !
Louvre and the tuileries gardens, on the Mission Louvre, our team will have to find the clues of the painting or be on the trail of Mona Lisa .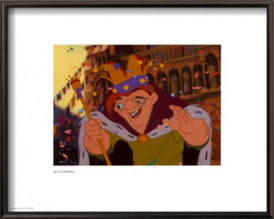 Half day (4h) private tour guide, transport for 4 is 600 euros
Full day (8h) guide, transport and afternoon snack "french goûter" (french pastries and hot chocolate/tea) included for 4 : 1150 euros (books included )

Lunch cruise or Lunch eiffel tower add +100 euros per person
Email us for information and prices, all our tours are customized and we can design the tour you wish.

Each museum tour will be adapted to the children's age. Usually, they will discover the museum through the form of a labyrinth, and a ludic game, each painting will have a special number in the game , and they will have to find it. We also recommend to children who love painting, to bring to these museum tours, their color pencils and papers to draw what they like – Recommended museums for children are: Louvre, Orsay, Rodin, Grevin, National history, Poupée...
French adventures will also provide books and materials when possible.
Regular childrens tour is 400 euros (4h), transport not included, up to 5
SPECIAL MUSEUMS TOURS BELOW with different rates...
A letter that Rodin wrote before he died was just found...We learn from this letter that this museum he wished to create, will not be ready before he died and he has asked the children to verify if his successors have realized his wishes. But the letter also hides a secret, and we have to find it!
Private tour for children (up to 8 maximum per guide)- Transport hotel one way included and french gouter at the museum
| | | | |
| --- | --- | --- | --- |
| CHIL01 | Private Tour for up to 5 | 650 Euros | |

Package pick up hotel + Tour investigation at Rodin Museum
+ one hour private horse ride carriage through Paris,
drop off Eiffel tower – for 4 : 950 euros
ON MONA LISA'S TRAIL
Private walking tour & fun visit of the museum- The children will visit the museum like a labyrinth, answering the clues given by the guide. This tour can also be thematic with for example the Da Vinci Code or the Egyptian Gods, Mona Lisa 's legend (this depends on the age of the children). Following the museum, we will go to the Tuileries gardens to play.
A French Gouter can be organised after with a supplement at Angelina. (add 25 euros per person)
Guide comes your hotel or meet guide at the LOUVRE
Taxi pick up supplement of 100 euros for 4
| | | | |
| --- | --- | --- | --- |
| CHIL02 | Private Tour for up to 4 Children | 400 Euros | |
| | Adults over 18 - Ticket Entrance | 9 Euros | |
| | Groups over 5 persons | 60 euros supplement | |
Bring your drawing paper and pencils for this tour, you will discover the most fascinating French Impressionists painting ! We will start with a tour at Orsay, stop for lunch at the beautiful mansion of Poulpry (XVIIIth. Century) and visit Monet's museum in the afternoon and discover the paintings of Claude Monets having fun !
CHIL03
Guide and entrance
Private Tour for up to 4 Children
500 Euros
Guide + transport for 4 & entrance : 1100 euros
We will meet the guide at the Eiffel tower for a VIP tour of the under the Tower, usually not open to public - You will then visit all the fabulous machines conceived by Mr. Eiffel, that activate the Tower up to our days. The private tour includes the backstage guided historical visit of the Eiffel tower for one hour and half and access ticket up to the first floor – French goûter can be organized after with supplement or lunch / dinner at the Eiffel tower
| | | | |
| --- | --- | --- | --- |
| CHIL04 | Private Tour for up to 8 Children | 400 Euros | |
Was there really a phantom in the Opera of Paris? Discover the beautiful Opera Garnier of Paris and hear all its fascinating stories. We also offer a special VIP tour after the Opera is closed (1h30) after 5PM
| | | | |
| --- | --- | --- | --- |
| CHIL05 | Private Tour for up to 4 Children | 420 Euros | |
We will organize a fun visit through the Pompidou center and museum of modern art where the children will have to find the paintings. Afternoon, a game will be organized through le Marais (treasure hunt) with the guide , material furnished, maps.
Afternoon snack to be addded and transport as well.
| | | | | |
| --- | --- | --- | --- | --- |
| CHIL06 | Guide only | Private Tour for up to 8 Children | 500 Euros | |
Following the mythologic Hercules, the children discover the famous sculptor, his workshop and museum. They will have badges, books, and they have to answer the clues of the mysterious monograms!
| | | | | |
| --- | --- | --- | --- | --- |
| CHIL07 | Guide, gouter | 2H private tour 4 children | 560 Euros | |
A Walking tour of le Marais, traditional area of Paris, shopping and visit of the Magie museum for children and parents! Entrance museum to be added.
| | | | | |
| --- | --- | --- | --- | --- |
| CHIL08 | Guide only | Private Tour for up to 8 Children | 400 Euros | |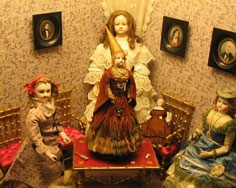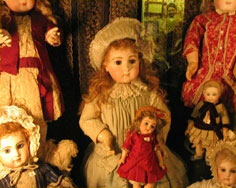 The Musée de la Poupée-Paris, place of amazement, discovery or nostalgia presents more than 400 French dolls from 1800 to our days in settings that will enchant the children as well as the adults.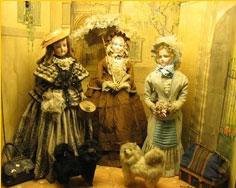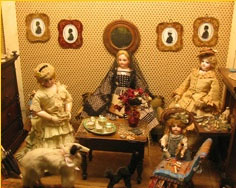 The Musée de la Poupée opened in June 1994 in the heart of le Marais between Pompidou Center and The Museum of Jewish History, next to Metro station Rambuteau, its windows are just facing what will be soon the new public gardens of Saint Aignan, rebuild in their traditionnal 17th century style « à la française ».

"Articulated Character" Workshop for Children
A workshop for children from 5 to 12 years old will enable them to make an articulated character : choise of the model, decoration, cutting, assembling.
Every Wednesday at 11 am, beginning October 15, 2008.
During Paris school holidays: Tuesday, Wednesday, Thursday at 11am
Material provided - Duration: 2 hours - Limited number of children: 5 to 12
Story telling sessions related to dolls are given for children from 3 years old. Vanessa a "true" doll will take you the wonderful world of toys...
Every Wednesday at 2.30pm
During Paris school holidays: Tuesday, Wednesday, Thursday at 2.30 pm
Duration (tales + visit): 2 hours - Limited number of person: 5 to 25
Cost of guide + one workshop and entrance to museum for a family 2 adults and 2 children for example: 400 euros (no transport included) - this tour can be linked to a visit of le marais.
Gus yellow fluorescent tennis shoe soles will lead the way along the discovery of the 12 themes* that focus on the Eiffel Tower in the form of short illustrated texts. That is where children will find the clues that will help them to answer the quiz found in the game book they were given, which also contains other fun activities: mazes, riddles, observation games or find the differences...
* Who was Mr. Eiffel ? Once upon a time… the Eiffel Tower. The Tower gets a new look. The different challenges and feats. The Tower made of iron and rivets. The Tower is a star. Hello, Eiffel Tower? The Tower from Top to Bottom. A look at inventions, and the facts and figures behind the Tower. The tower and its lighting. The Tower in the world...
A private tour of the Eiffel tower for the family with a quizz , private guide meets you at the tower with the tickets taken in advance, no lines- The Quizz is on the first floor and then visit the tower with your guide.
Private tour is for 3H maximum followed or after a lunch cruise on the seine . Private licensed guide, tickets entrance, book game and lunch cruise Premier service included.
Cost for 2 children and 2 adults: 860 euros
Great tour for families with children!
Private tour half day, guide & transport
Tour: HP1
An afternoon private tour with your driver guide to discover the best chocolate houses & stores in Paris! You will stop also at a beautiful tea room for chocolate pastries, chocolate tastings are possible if booked in advance (with supplement) with a professional. A stop at the Ritz or laduree / angelina for tea/ hot chocolate can be added after the tour.
| | | | |
| --- | --- | --- | --- |
| HP16A | 1-3 persons | 520 Euros | |
| HP16B | 4-6 persons | 560 Euros | |
| HP16C | 7-8 persons | 600 Euros | |
We will start the tour with a 9am pick up of the children at your hotel & transfer by taxi to the Jardin d'acclimatation of Paris. Parents are welcome. We will take the little train dating from 1800 from Porte Maillot directly to the center of the Park of Boulogne in Paris. The park is great (19 hectares) for a full day of activities, our guide will be with the children all the time : poney tours, the river enchanting/ boat tour



roller coaster Dragon
antique horse manége
circuit car F1 tours (for children)
Puppet theater/ guignol
mini golf
animals, ZOO, & birds, typical french farm to visit
circus show

We will arrange a picnic (or you can go to the restaurant of the park), take the tickets in advance for all the activities, arrange transport if needed, and guide.
Cost of guide full day is 450 Euros
+ full day acitivities family of 4 persons tickets is 100 euros (25 tickets)
** transport or transfers not included / picnic is in supplement
Same prices as above for guide. + tickets entrance for the ZOO & Aquarium.
2PM - We will pick you up at your hotel/apartment and transfer to the Circus in Paris.
2:30PM - The artists welcome the children and put make up on their faces !
You will be become a clown or an artist!

3PM - The artists on stage, 3:45PM a gouter, french afternoon snack included with drinks
4PM - It is your turn, you are the artits and must learn how to juggle and be a clown!


Please email us for a quote, prices depend on number of persons.
For 2 adults, 2 parents, guide, transport and entrance, snack, the cost is 800 euros
Tour of Paris - Versailles - Musée de l'Air et de l'Espace:
Take off for a flight of 45 minutes from tuesdays to sundays from the heliport of Paris. You will discover all the monuments of Paris. You will land at the Bourget for one hour and will visit the museum of Air & Space. You will discover the first prototype of the Concorde and the Concorde Sierra Delta. On your return flight from le Bourget to the heliport of Paris you will fly over the castle of Versailles.

Boarding: Paris Heliport
Flight duration: 45 min (stopover at the Bourget museum, free visit 60 min)
Landing: Paris Heliport
Adult rate: 360 euros and Child rate: (2 - 12 years old) 320 €
Flights are available every day except Mondays
Come with your mother and make your own perfume! private workshop with a "nose"
pick up and return hotel included (4h)
Tea or hot chocolate served included
Transfers private + 2H workshop private and your bottle of perfume: 520 euros (2 persons)
From KENZO KIDS, ARMANI KIDS, DIOR, SONIA RYKIEL AND MORE HIGH FASHION TO TRENDY FUN FRENCH DESIGNER
this tour is designed for you, because you are very important to us ! Our shopping adviser will dress up the list of stores in advance according to what you are looking for . Bring your parents with you, this is your Princess day!
4H Children private shopping tour with shopping adviser English/ French/ Italian speaking and private driver/ car, Cost 2 parents and one child: 600 euros

Treasure hunt followed by a french gouter* (children's snack)!
In le Marais, and with a treasure map , the children will discover the historical Marais at the time of Louis XIIIth. and his famous musketeers. They will also discover mythic legends of the area, and fantastic animals...
| | | | | |
| --- | --- | --- | --- | --- |
| CHIL09 | Guide and snack | 2H private tour 4 children | 560 Euros | |
Treasure hunt followed by a french gouter!
On the footsteps of the XIXth. Famous artists who used to live there such as Toulouse lautrec and Picasso...
| | | | | |
| --- | --- | --- | --- | --- |
| CHIL10 | Guide and snack | 2H private tour 4 children | 560 Euros | |
Treasure hunt followed by a french gouter !
A TREASURE HUNT THROUGH THE OLD PARIS FOLLOWED BY ICE CREAMS AND PASTRIES AT BERTHILLON ON ISLAND SAINT LOUIS. GUIDED TOUR OF NOTRE DAME INCLUDED.
| | | | | |
| --- | --- | --- | --- | --- |
| CHIL11 | Guide and snack | 2H private tour 4 children | 560 Euros | |
Treasure hunt followed by a french gouter!
A TREASURE HUNT THROUGH THE LATIN QUARTER OF PARIS.
| | | | | |
| --- | --- | --- | --- | --- |
| CHIL12 | Guide and snack | 2H private tour 4 children | 560 Euros | |
Visit the Eiffel Tower and Notre Dame and see see Paris on a river boat!
2 adults and 2 children...
or example cost is 560 euros for 8h boat with unlmimited rides included guide included: tickets museums add with lunch, not included, flexible tour according to clients
| | | | |
| --- | --- | --- | --- |
| CHIL13 | 2 adults and 2 children | 560 Euros | |
Perfect for families with children!
If you want to discover the fascinating world of French pastries, know more about the macaroons frenzy, meet taste inventors, see wonderful cakes, as made with the know-how of the best architects, this tour is for you. Follow us in the is exceptional walking tour that will make you consider gourmandise as an art. We will taste a selection of pastries. Usually on Fridays, from 2pm to 5pm.
| | | | |
| --- | --- | --- | --- |
| CHIL14 | per person (metro tickets not included) | 150 Euros | |

Learn how to cook with fun!
2H30 lunch included - 100 euros per child.

These great services can be offered to you to your hotel or in special workshops in Paris - If you are organizing your child birthday for example, here are some ideas:
(prices are per services and not per child, services can be up to 12 children)
We will take care of your children while you go to see a movie, go to a restaurant, or have a night out at the Moulin Rouge!
You can choose either a story teller or a pupeteer to come to your hotel for one hour and then a carefully selected, English speaking babysitter, will then join the children until you come back from your evening on the town. A special treat for you and the kids!
French teacher to learn French in a funny way, songs, & great stories (2h) 200 euros

Magician & clowns: 500 euros for 1h30

Marionettist & puppet show around the cats: after a wonderful puppet show on the thema of the cats & legends, the artist will show the children how to animate the puppets. Make up for the children (cat make up). 400 euros for 2h

Singing workshop for children / tales, & songs – 1h - 240 Euros

Origami workshop to learn the Japanese art of folding with fun with a Japanese artist! 300 Euros for one hour.

Mosaic, 3D painting classes, sculpture, workshop in Paris for childrenmake up classes (their choice, animals, tales)